2020 Outlander KBB 5 Year Cost to Own Award
Kelley Blue Book's 5-Year Cost to Own Awards take into consideration a variety of factors that contribute to vehicle expenses, including depreciation, expected fuel costs, finance and insurance fees, maintenance and repair costs and state fees for all new models. The award is intended to help new car shoppers make more informed purchasing decisions by breaking down typical ownership costs and recognizing the brands and models with the lowest projected five-year total. 
"The Mitsubishi Outlander continues to lead the Three-Row Mid-Size Utility segment two years running due to its low fuel costs and depreciation expense," said Eric Ibara, director of 5-Year Cost to Own for Kelley Blue Book. "The Outlander is currently the most affordable three-row vehicle on the market, and its operating costs are competitively low in every area. It also has the lowest fuel costs in the segment and its financing costs and repair expenses are also low in comparison to its competitors." 
The Mitsubishi Outlander has received other notable industry recognitions, and was named a 2019 Insurance Institute for Highway Safety (IIHS) TOP SAFETY PICK , when equipped with optional front crash prevention and specific headlights.1 
The 2020 Outlander improves the celebrated crossover with increased availability of driver assistance and safety equipment, new infotainment technology and small added luxuries throughout the cabin. Newly standard safety equipment on SE, LE, SEL and GT trims includes Forward Collision Mitigation with Pedestrian Detection (FCM)2, Lane Departure Warning (LDW)3 and Automatic High Beam Control (AHB)4 for added safety behind the wheel. 
SE and above trims also receive an updated eight-inch Smartphone-link Display Audio (SDA) system, boasting redesigned graphics with a cleaner and more modern appearance for enhanced connectivity. 
Each 2020 Outlander is also backed by one of the best warranties in the industry: a 10year/100,000-mile Powertrain Limited Warranty, a 5-year/60,000-mile fully transferable New Vehicle Limited Warranty, a 7-year/100,000-mile Anti-Corrosion/Perforation Limited Warranty and 5-year/Unlimited Miles Roadside Assistance.5 
For more information on the 2020 Mitsubishi Outlander, please visit media.mitsubishicars.com. 
About Mitsubishi Motors North America, Inc. Through a network of approximately 350 dealer partners across the United States, Mitsubishi Motors North America, Inc., (MMNA) is responsible for the sales, research and development, marketing and customer service of Mitsubishi Motors vehicles in the U.S. 2019 marked the brand's seventh consecutive year of sales growth. 
Located in Franklin, Tennessee, MMNA is a part of the Renault-Nissan-Mitsubishi Alliance. Mitsubishi continues to lead the way in the development of highly efficient, affordably priced new gasoline-powered automobiles, while using its industry-leading knowledge in battery-electric vehicles to develop future EV and PHEV models. 
For more information on Mitsubishi vehicles, please contact the Mitsubishi Motors News Bureau at (888) 560-6672 or visit media.mitsubishicars.com. 
Family Drive Review
07 Feb 2020  
Family Review: 2020 Mitsubishi Outlander PHEV ES Is the Mitsubishi Outlander PHEV ES your next family car? Running costs are an important factor when choosing the right family car for you. The Mitsubishi Outlander PHEV ES impresses in that area, but what else makes it a decent family opition?
How does this compare on price? Let's get to the elephant in the room straight off. As a plug-in hybrid, so part EV and part gasolinepowered, the Outlander PHEV isn't exactly cheap. Emerging tech often isn't. You'll pay $48,390 before on-road costs, or $50,990 drive-away at current extended special-offer pricing. That's a little more than the top-spec Outlander Exceed diesel, Mitsubishi's next most expensive Outlander at $49,690 drive-away. There are some differences to the rest of the range. The cheapest gasoline Outlander ES is a mere $30,990 with an automatic and two-wheel drive. The PHEV ES is an all-wheel-drive model by comparison but lacks the seven-seat option (from $31,490 as a gasoline) available elsewhere in the range. 
If you're after plug-in hybrid tech elsewhere, it's not so easy to find. The smaller Hyundai Ioniq hatchback starts from $41,990, or else for an SUV you must look to prestige brands like Mercedes-Benz and its mid-size GLC300e at just over $80,000.   Later in the year, Ford is expected to roll out a PHEV version of the all-new Escape, and pricing is likely to be close to the Outlander, though exact details are still to come.  
The headline act within the 2020 Outlander PHEV is a new infotainment system, with a larger 8.0-inch touchscreen and new menu layout that makes it easier to use. You'll also find Apple CarPlay, Android Auto, and digital radio, although there's no inbuilt navigation. Mitsubishi has tweaked the cloth-trimmed seats slightly with driver's lumbar support and front-seat heating. A leather steering wheel, dual-zone climate control with rear vents, keyless entry and start, automatic headlamps and wipers, and new rear-seat USB charge points are also part of the ES equipment list. 
Despite some minor design changes to areas like the infotainment and climate controls, much of the interior layout remains unchanged. It looks less cutting-edge as a result and keeps a few little ergonomic quirks, like trip computer controls hidden on the dash and obscured by the steering wheel. 
Despite its age, the Outlander is roomy inside, and while it may be unpretentious in its presentation, there's little in the way of fit, finish or material to disappoint. 
Boot space takes a small hit to accommodate the electric powertrain with 463L instead of the 477L in other models. There's no spare tire in the Outlander PHEV, instead there's an inflation kit.   
Is it a safe car in this segment? Both the regular Outlander and the PHEV versions carry the same safety rating. ANCAP awarded a fivestar score for safety in 2014, but as the criteria become stricter each year, that rating wouldn't apply if tested today. 
Safety equipment covers autonomous emergency braking, seven airbags, a reversing camera, and an 'approach informing system' so as not to startle pedestrians when approaching in EV mode. To take some of the load off when behind the wheel, there are also rear park sensors, auto lights and wipers, self-dimming interior mirror, and new Super All Wheel Control for the all-wheel-drive system adding Sport and Snow modes for more secure road holding. 
 The warranty is for five years or 60,000 miles on the Outlander PHEV with a ten-year or 100,000-mile engine and powertrain warranty.    
The primary role of the gasoline engine is to run a new, larger 80kW generator that then replenishes the larger 13.8kWh battery, up from the previous 12kWh capacity.  In EV mode, a pair of electric motors provides motivation. On the rear axle there's a new, more powerful 70kW and 195Nm motor (up by 10kW), while the front has a carryover 60kW and 137Nm motor 
Completing the circle is a trick transmission unit that lets the gasoline engine do two things: powering the wheels directly at highway speeds or running the onboard generator, with the ability to split power between the two tasks as required.   
What is its economy like? Because of the way test data is collected, the official consumption rating of 1.9 litres per 100km probably isn't the figure you'll see. If you have a short commute and keep the battery topped up, you could potentially return a neat 0.0L/100km, but on a longer non-stop drive you'll use more gasoline, obviously. 
 On a 150km unbroken trip on a warm day, the trip computer signaled a pretty impressive 4.5L/100km, yet on a cool morning the following day, over a much shorter 25km trip, the gasoline engine ran more often (it does this to supplement the heating system) and used 6.8L/100km. Claimed maximum electric range is 54km, but on a real-world urban loop the battery indicator showed 0km of range left after covering 50.9km with the air-conditioner running. That's decently close to Mitsubishi's claim. 
To charge the Outlander PHEV, a regular 10-amp wall socket will take around seven or eight hours from flat to fully charged. A dedicated charge outlet can reduce charge times to as little as three hours. 
What else should I consider in this segment? 
Because of its 'two cars in one' flexibility, the Outlander PHEV can operate as an electric vehicle on weekday commutes, without any significant limitations to its travelling range if you want to head out on a road trip come the weekend. That puts it in a fairly unique place for the moment. The only other SUV to do so right now is the Mercedes-Benz GLC300e plug-in hybrid, but it's much more expensive. In a similar price bracket, you could get a Hyundai Ioniq plug-in, but you'll miss out on the SUV versatility and AWD of the Outlander PHEV. It could potentially be worth waiting for the Ford Escape PHEV when it arrives later this year, but you'd have to hold off until mid-year, and for now pricing and equipment for Australia are unknown.   Any problems I should look out for? It may come as no surprise, but even with its long-range ability and on-the-go fueling potential, the Outlander PHEV won't be for everyone. For one thing, if you lack the ability to charge at home as a street-parker or apartment dweller, then there's obviously little point picking the plug-in Outlander. It probably isn't the ideal choice if you intend to tow. While no Outlander variant is an outright hauler, the 1500kg maximum towing capacity of the PHEV doesn't offer the flexibility of the 2000kg capacity available in the Outlander diesel, not to mention the impact towing will have on driving range. Otherwise, the Outlander has been around for a while now, and owners broadly report little to look out for in terms of quality issues or quibbles.   Should I buy it? Because of its price premium, the Outlander PHEV is harder to recommend alongside its regular internal-combustion range mates. For outright value, the regular Outlander is near the top of its segment. Then again, as an emerging technology, plug-in hybrid cars neatly bridge the gap between new-age electric cars and traditional gasoline-powered models. While that tech is new it'll be expensive, yet Mitsubishi has brought it to market and still undercut other plug-in SUVs from European brands. With the latest driveline revisions and powertrain management upgrades, the 2020 Mitsubishi Outlander PHEV makes more sense than any version to come before it. It's easier to live with, more flexible, and ultimately easier to recommend if you're looking to dip a toe into the plug-in way of life.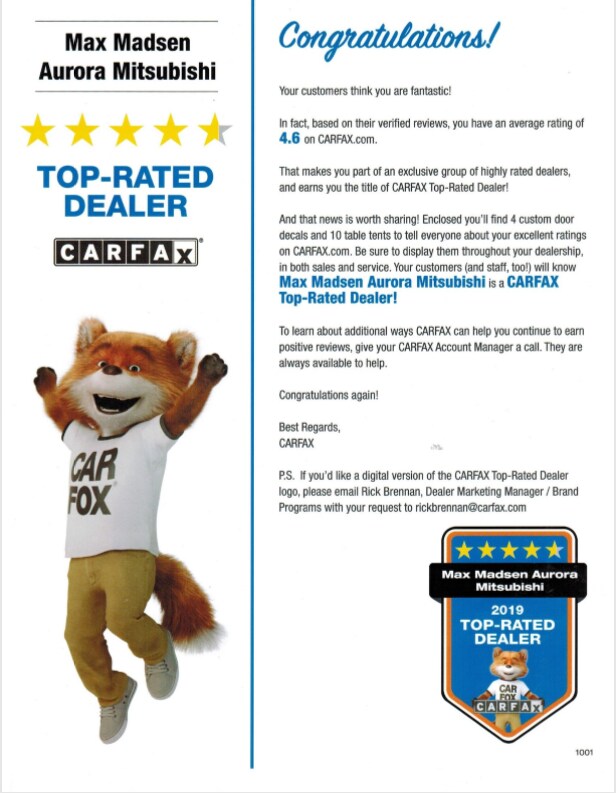 2019 Carfax Dealer Award
2019 Carfax Dealer Award - Max Madsen Aurora Mitsubishi