First Drive: The 2022 Mitsubishi Outlander Is Ready to be Relevant
First Drive:  The 2022 Mitsubishi Outlander Is Ready to be Relevant
Consumer Reports - April 26, 2021
Three-row compact SUV has user-friendly interior tech, a well-made cabin, and an improved driving experience.
If you're in the market for a small SUV that can fit seven people in a pinch, the all-new 2022 Mitsubishi Outlander could be an appealing option.  Though none of Mitsubishi's recent models have impressed us, this new three-row family hauler checks the boxes in terms of its decent handling agility, a pleasingly pretty and well-built cabin, and interior flexibility in a compact package.  
The new Outlander's turnaround appears to be due to the recent Nissan-Renault-Mitsubishi Alliance, in which all three automakers share resources.  As such, the new Outlander has a lot in common with the redesigned 2021 Nissan Rogue, an SUV that's more refined than any other current product from Mitsubishi.
The Outlander gives buyers a unique choice:  It's just slightly larger than most two-row compact SUVs, such as the Honda CR-V, Subaru Forester, and Toyota RAV4, yet it's considerably smaller than most midsized three-row models like the Kia, Telluride, Mazda CX-9, and Toyota Highlander.  
2022 Mitsubishi Eclipse Cross First Drive Review | A Welcome Review
2022 Mitsubishi Eclipse Cross First Drive Review | A welcome improvement
Autoblog – April 2, 2021
We've considered the Mitsubishi Eclipse Cross a better-than-expected option in a mostly uninspiring vehicular segment ever since it was introduced for the 2018 model year. It's sized and priced somewhere between subcompact and compact crossovers, making it an in-betweener that may attract some buyers due to its distinctive positioning.
2022 Mitsubishi Outlander First Drive: Impressively Outstanding!
2022 Mitsubishi Outlander First Drive: Impressively Outstanding!
MotorTrend – April 6, 2021
The 2022 Mitsubishi Outlander first drive we've just completed proves the new Outlander is, without pretense, the realization of an idealized future. The Japanese automaker's latest crossover SUV is the most modern and segment-competitive product to wear the triple-diamond crest in, well, at least 15 years.
2022 Mitsubishi Outlander Sets the Stage For Mitsubishi's Future
2022 Mitsubishi Outlander Sets The Stage For Mitsubishi's Future
Forbes – April 6, 2021
The all-new 2022 Mitsubishi Outlander is like a rolling, four-wheeled homage to the brand's evolution over the past 5 years. That's when Mitsubishi joined the existing Renault-Nissan Alliance, and this new Outlander is the first U.S. product to fully represent what Mitsubishi is capable of producing.
2022 Mitsubishi Outlander Review: From Outcast to Outstanding
2022 Mitsubishi Outlander Review: From Outcast to Outstanding
Cars.com – April 6, 2021
An all-new platform transforms the 2022 Mitsubishi Outlander from a quirky, dated entry in the compact crossover field to a sophisticated, technology-packed, desirable SUV.
"Essential Worker" honors family heritage and generous American spirit, bringing hope in a Mitsubishi Outlander
​Automundo Hoy – March 9, 2021
Jack Chalensouk's family, like millions before them, came to America in search of a better life. Growing up, their parents instilled calm confidence and a deep sense of civic responsibility in their children. When his sister, Kathryn, told him about the opportunity to give back to a Native American community hit hard by the COVID-19 pandemic, Jack waited until a break in his postman schedule and loaded his Mitsubishi Outlander with essential supplies and hit the road.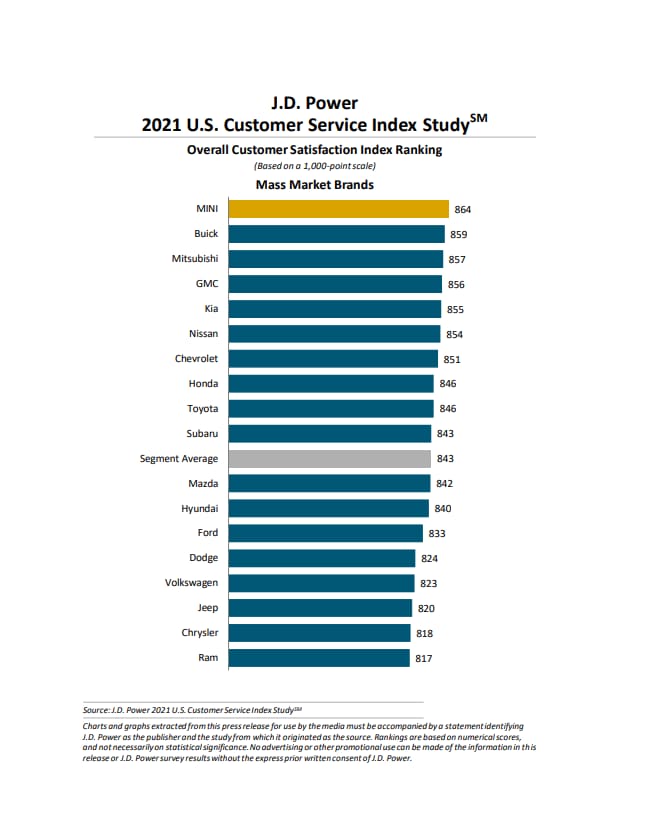 JD Power 2021 U.S. Customer Service Index Study
Charts and graphs extracted from this press release for use by the media must be accompanied by a statement identifying J. D. Power as the publisher and the study from which it originated as the source.  Rankings are based on numerical scores, and not necessarily on statistical significance.  No advertising or other promotional use can be made of the information in this release or J. D. Power survey results without the express prior written consent of J. D. Power.
Mitsubishi Has Sold More EVs In American Than Rivian, Bollinger, Hummer, Lucid and Aptera Combined
This year Rivian, Bollinger, Hummer, Aptera, and Lucid might ship an electric vehicle of some type to a customer. Or they may not. We hope they do. So do many electric vehicle enthusiasts. Being a "bird in hand" type of electric vehicle enthusiast, I thought a quick story about Mitsubishi's electric vehicles in America might give some perspective.
Mitsubishi Moves Toward Online Sales
Not every automaker is onboard with the touch-free shopping trend. But most seem to be moving toward it. Mitsubishi is the latest to sign on. The brand's new ClickShop system almost enables car shoppers to complete the entire buying process through Mitsubishi's website.
Mitsubishi Thinks Buying A Car Is Too Complicated
​Car Buzz – March 10, 2021
To go along with new reveals like the 2022 Outlander and Eclipse Cross, Mitsubishi Motors North America will release a new 24-hour digital showroom called ClickShop. With this new system, Mitsubishi shoppers can browse dealer inventory, build a custom deal, submit their credit application, and book test drives from the comfort of their homes. Mitsubishi says the experience is as easy as "click, click, car."
Mitsubishi Latest to Set Up Online Sales Portal: ClickShop
​The Detroit Bureau – March 8, 2021
The pandemic forced automakers to rethink how they sell vehicles, with several now offering more robust online options for potential buyers. Mitsubishi Motors North America joined the list with its new ClickShop offering. It's a 24-hour "digital showroom" hosted on the company's website.
2022 Mitsubishi Outlander vs. Honda CR-V: Can it upset the leader?
​CNET Roadshow – March 6, 2021
Mitsubishi just released the next generation Outlander, the compact SUV that's going to do battle with the big boys. So let's see how it stacks up against the popular Honda CRV Shall we?
DAILY DRIVE PODCAST: March 2, 2021 | Mitsubishi's mission: Get freshened products in the hands of dealers, customers
Automotive News – March 2, 2021
Ken Konieczka, vice president of North America sales, says the next-generation Outlander midsize crossover will help feed the appetite of product-hungry U.S. retailers.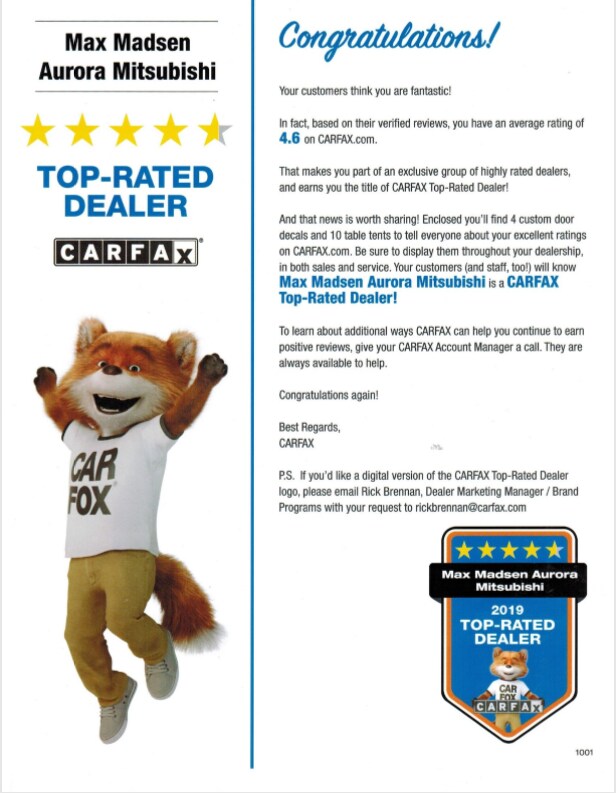 2019 Carfax Dealer Award
2019 Carfax Dealer Award - Max Madsen Aurora Mitsubishi